The 2022 Zephyr Epic Gift Guide
The holiday season is here again! To help you prepare for all the gift-giving (and gift-getting!), we've prepped this list of gift ideas to highlight the variety of products we have available at Zephyr Epic. You're sure to find something fun and exciting for any trading card fan!
Pokémon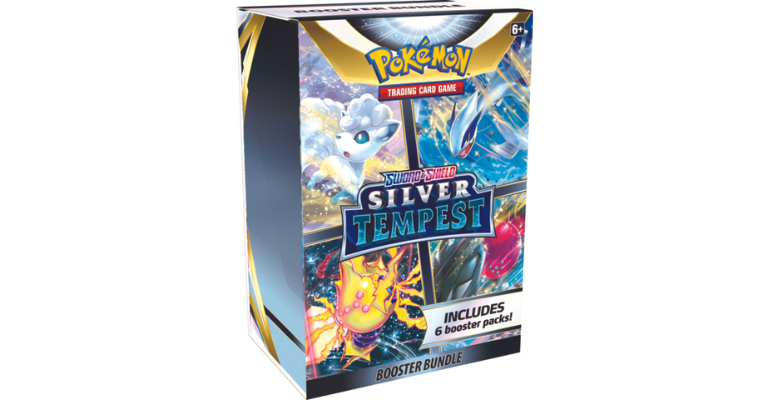 Silver Tempest Booster Bundle
Silver Tempest is Pokémon's final main release for the Sword and Shield era and they're going out with a bang! This set highlights some big fan favourites, including Alolan Vulpix, Regidrago, Regielki, and several high-value new cards for the legendary Lugia. The Silver Tempest Booster Bundle is filled with six Silver Tempest booster packs, giving Pokémon lovers a chance to hunt for these Pokémon and more, as well as the new set of the popular Trainer Gallery cards. Small enough for a stocking, but with enough potential to make a big splash on the big day.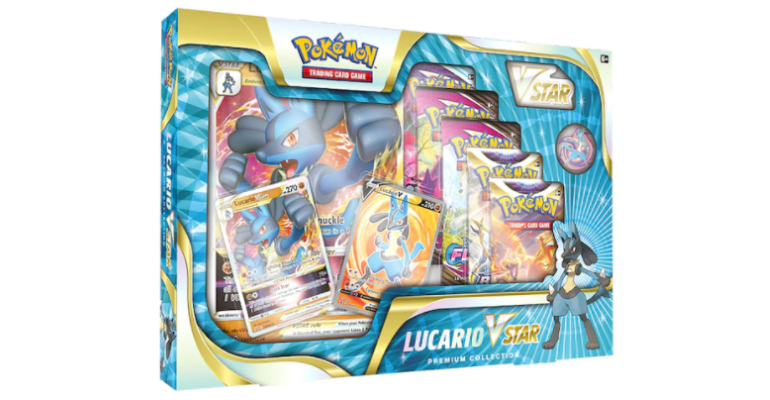 Lucario VSTAR Premium Collection
To celebrate this hard-hitting fan favourite, Pokémon has given Lucario its own Premium Collection! On sale for just $34.39, the Lucario VSTAR Premium Collection comes with tons of exclusive goodies, including etched foil Lucario V and Lucario VSTAR promo cards, as well as an oversized Lucario VSTAR Card, Lucario collector's pin, and metallic coin. There are also six packs of Pokémon cards inside, making this a surefire way to bring a smile to any Pokémon fan's face this holiday season.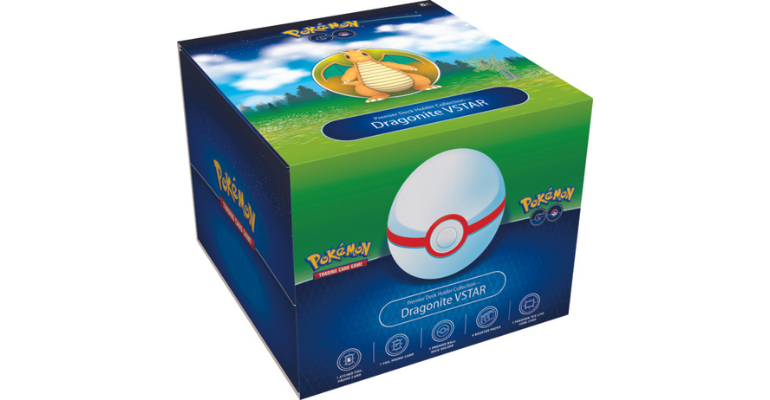 Pokémon Go Premiere Deck Holder Collection – Dragonite VSTAR
The Pokémon GO craze continues to engage Pokémon fans around the world and this special Pokémon GO themed set celebrates everything that makes the game so compelling. On sale for $46.74, the Dragonite VSTAR Premiere Deck Holder Collection comes with deluxe exclusive collectibles, including a foil Dragonite V and etched foil Dragonite VSTAR promo cards, a Pokéball deck holder, and nine Pokémon GO packs. Pokémon GO and Pokémon cards: the perfect combo for that fan who loves all things Pokémon.
Hockey
2021-22 Upper Deck NHL Series 2 Tin
The 2021-22 NHL season may be long gone, but this fantastic set will still light the lamp when a hockey fan finds it under the tree. The 2021-22 Upper Deck NHL Series 2 Tin comes with eight Series 2 packs, plus a bonus pack of exclusive O-Pee-Chee Glossy cards that you can't get anywhere else. And the Young Guns checklist is filled with some of the best rookies of last season, including Moritz Seider, Lucas Raymond, Mason McTavish, Cole Perfetti, and Quinton Byfield. With a sale price of only $24.64, jump on the rush before it's all gone!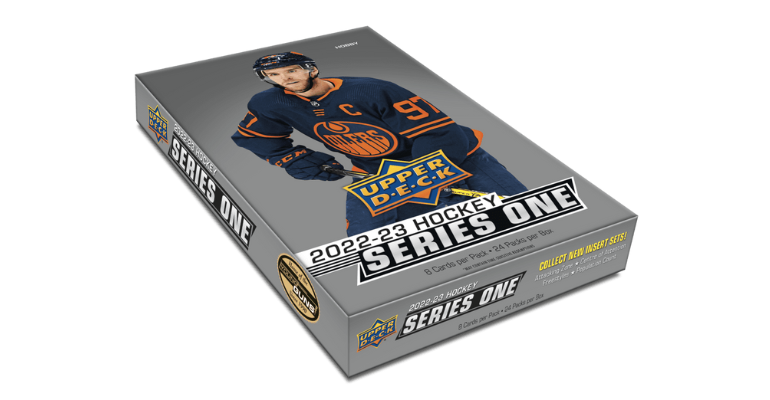 2022-23 Upper Deck NHL Series 1 Hobby Box
Need to make a big impact on the big day? The 2022-23 Upper Deck Series 1 Hobby Box brings hockey cards into the current NHL season. With some of this year's flashiest rookies included on the Young Guns checklist—including Matty Beniers, Owen Power, and Matt Boldy—plus exclusive insert and parallel cards you can't find in retail packs, this 24-pack box is absolutely loaded with value. Get the assist of a lifetime by passing this present to the hockey fan in your life on Christmas morning.
Magic the Gathering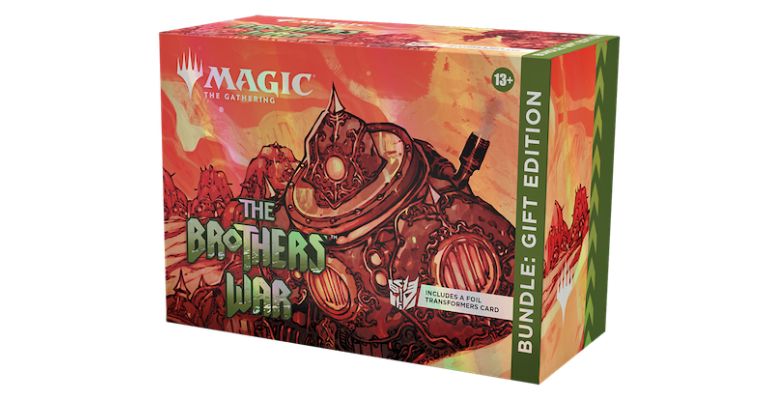 Brothers War Gift Bundle
Relive the war between Urza and Mishra that shook the plane of Dominaria to its core with the Brothers War Gift Bundle! It not only comes with eight Set Booster Packs, but also a Collector Booster Pack filled with rarer cards. The bundle also contains a bunch of exclusive goodies, including a foil alt-art card, a Spindown life-counter, and a themed foil card-storage-box that you can't find anywhere else. Overloaded with callbacks to Magic's 90s era, the Brothers War Gift Bundle makes a great gift for both longtime Magic players looking for some nostalgia as well as new players waiting to experience this pivotal event in Magic's history for the first time.
Commander Starter Decks
Commander is Magic: The Gathering's most popular format to play, but it can be a little intimidating for newcomers! To help new players get acquainted with the unique rules, Magic is releasing five new 2-colour Commander Starter Decks geared towards introducing the format. Each deck comes with everything you need to play, including an exclusive Foil Commander card, a 99-Card Deck, a themed deck box, and tokens. Give a Magic fan a new way to play with a Commander Starter Deck snuggled under the Christmas tree.
Basketball
2021-22 Panini Chronicles Basketball Blaster Box
Hoops fans may be engrossed in the drama of the current NBA season, but the 2021-22 Panini Chronicles Basketball Blaster Box will quickly snatch their attention away with a chance to find a rookie card of young superstars like Cade Cunningham, Evan Mobley, Jalen Green, Josh Giddey, and especially last season's Rookie of the Year, the Toronto Raptors' own Scottie Barnes. Plus it's on sale for $22.94, making it a slam dunk gift for any fan of basketball cards this holiday season.
Yu-Gi-Oh!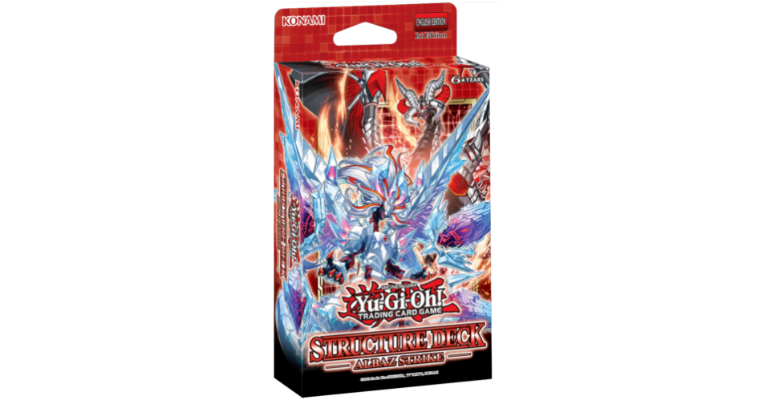 Albaz Strike Structure Deck
Not all Structure Decks are created equal, and this one is built better than most. The Albaz Strike Structure Deck comes with a 46-card preconstructed deck consisting of five Ultra Rares, three Super Rares, and 38 Commons, as well as tokens and a fold-out playmat. What makes this Structure Deck so special is that it's particularly competitive, with cards strong enough to also beef up your other decks. With a sale price of just $12.59, Albaz Strike is a neat little stocking stuffer that will be a powerful addition to any Yu-Gi-Oh! fan's collection.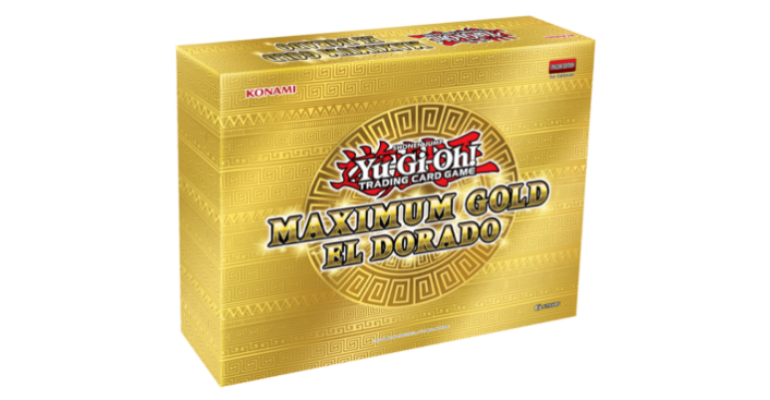 Maximum Gold: El Dorado
Make this holiday a golden one with Maximum Gold: El Dorado! Featuring reprints of popular Yu-Gi-Oh! cards in gold foil, this box set contains four 7-card packs guaranteed to include two Premium Gold Rares and five Gold-Letter Rares. On sale for $25.49, the set also features the chance to find ten cards with exclusive new art, making this a nifty item Yu-Gi-Oh! fans definitely won't want to miss!
Football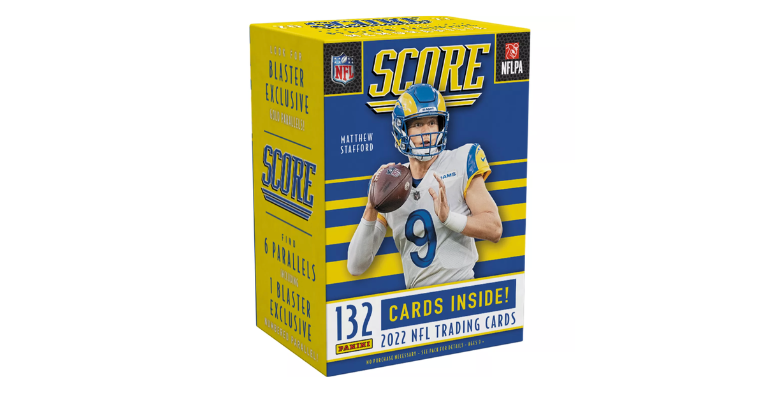 2022 Panini Score Football Blaster BoxWith the NFL playoffs just around the corner, the 2022 Panini Score Football Blaster Box is the perfect way to get a football fan doing their favourite touchdown dance throughout the holidays. Stuffed with six 22-card packs, the 2022 Score checklist includes some of the best performing rookies of the 2022 NFL season, including Garret WIlson, Ahmad "Sauce" Gardner, Kenneth Walker, George Pickens, and Kenny Pickett. Just make sure the recipient doesn't spike this fantastic box of football cards in the endzone!
Dungeons & Dragons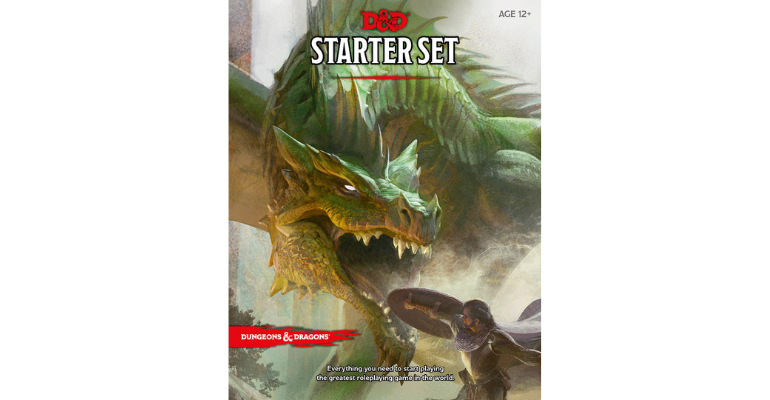 Dungeons & Dragons 5th Edition Starter Set
Dungeons & Dragons has never been more popular, but it can be an intimidating game to jump into for newcomers. Thankfully, D&D has got you covered with the Dungeons & Dragons 5th Edition Starter Set. The Starter Set comes with everything you need to begin your own D&D campaign: premade player characters, an abridged rulebook, and the beloved Mines of Phandelver campaign book. All you need to do is get a few friends around the table, grab some holiday treats to snack on, and you're ready to set out on an adventure like no other.
In Conclusion
Amidst the chaos of the holiday season, we hope you find our guide helpful for your holiday shopping. Our knowledgeable in-store and online staff are eager to help you find that perfect present, so please don't hesitate to approach us with any questions you may have.
Happy holidays!