Relive the Live Gameday Experience with 2019-20 Upper Deck Credentials
Credentials is a brand-new set of hockey cards from Upper Deck. With cool new designs meant to emulate the live game experience, the 2019-20 edition comes out at the perfect time for fans waiting patiently for hockey to come back.
Image via Beckett.
Credentials' base set has a small 50-card checklist featuring the NHL's best veterans. There are four levels of parallels: Red (/225), Green (/125), Purple (/49) and Black (/10).
Ticket Access
Debut Ticket Access cards feature a design that captures the classic game ticket look. The set is made up of 100 rookies with a large variety of parallels to collect. The base cards are split into four tiers of varying rarities: Tier 1 (/999), Tier 2 (/699), Tier 3 (/499) and Tier 4 (/299). There are parallels to be found as well: Red (/99), Green (/25), Purple (/10) and Black (1/1). There are acetate parallels available for the harder-to-find cards: Tier 3 (/299) and Tier 4 (/99). And finally there are even acetate autographs for Tier 3 (/99) and Tier 4 (/25).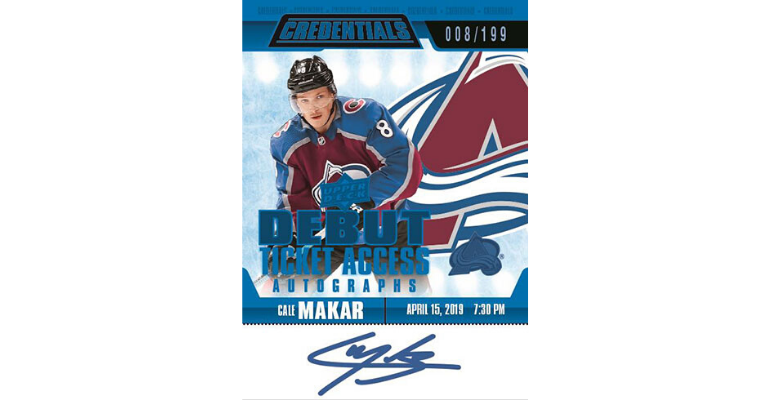 Image via Beckett.
Debut Ticket Access Autographs also focus on rookies and feature on-card signatures that are numbered out of 299 or 199 depending on the player. There are parallel versions: Red (/65), Green (/25) and Gold (1/1). There are also photo variations, with base cards numbered out of 29 and the parallels numbered out of 25 or less.
Ticket Access Autographs focus on veterans, and the base cards have different print runs depending on the player. They have parallels: Red (/10), Green (/5) and Gold (1/1). There are also acetate parallels (/199) and autograph acetate parallels available.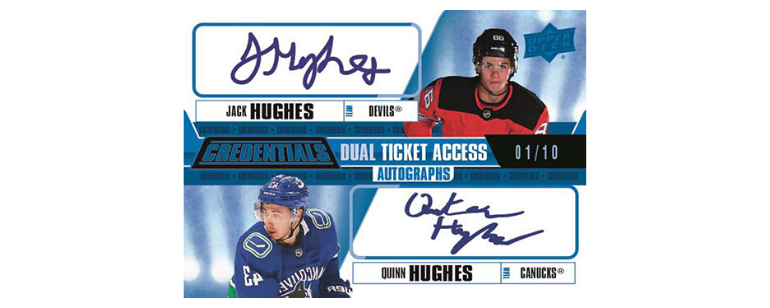 Image via Beckett.
There are four Dual Ticket Access Autographs cards to collect, each with two players' signatures on the card. Three cards have veteran pairings, but the fourth is a Quinn Hughes and Jack Hughes rookie pairing. Parallels for the set have very short prints: Red (/5), Green (/3) and Gold (1/1).
Inserts
Image via Beckett.
Rookie Science is an insert subset that evokes the spirit of all the scientific analysis involved in the game today. They're not hard to find, running at 1:2 packs. Autograph versions are a bit trickier at 1:48 packs.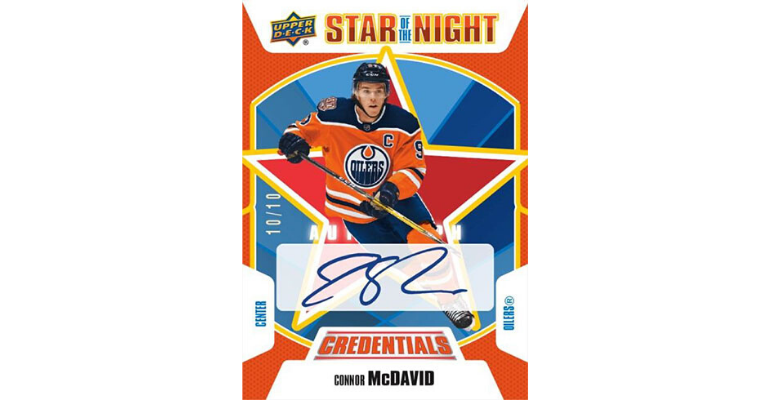 Image via Beckett.
The Star of the Night design is inspired by the three stars named at the end of each hockey game. The checklist of veterans (1:15) and rookies (1:20) is split into 1st Star, 2nd Star, and 3rd Star categories. There are autograph versions to find for each category: 1st Star (/5, /10, or /15), 2nd Star (/25 or /75), and 3rd Star (/49 or /99).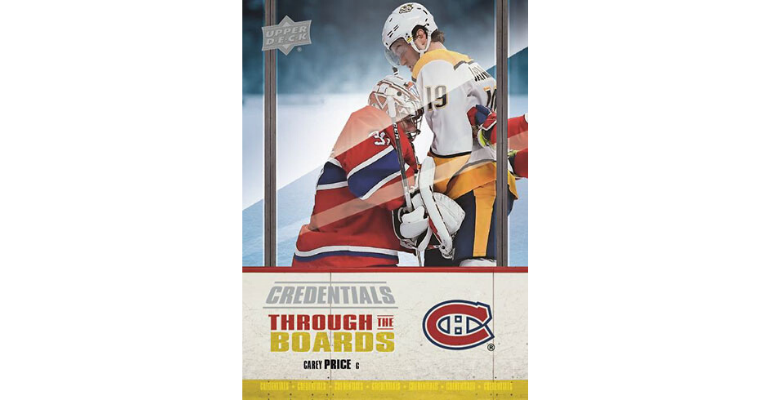 Image via Beckett.
With its acetate stock cards, the Through the Boards insert set captures the feeling of sitting in the front row at the arena and seeing the action through the glass. Both the base cards and Young Bloods rookie cards are 1:53 packs.
Image via Beckett.
Steel Wheels evoke the glare of light off a player's skate blades with its metal stock cards. This is another rookie-based insert set. Base cards are found at 1:16 packs and there are also Gold parallels to collect (/99).
In Conclusion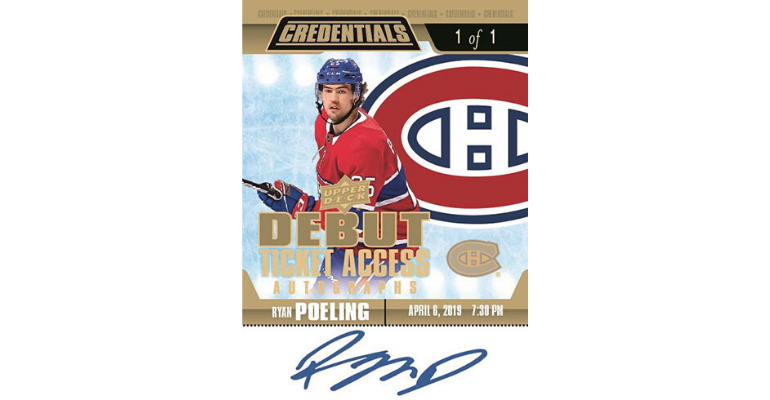 Image via Beckett.
2019-20 Upper Deck Credentials releases on April 29, 2020. There are six cards in each pack, and eight packs in every box. On average, each box contains one autograph, one metal or acetate card, five Debut Ticket Access or parallel cards, and four additional inserts.
We know fans are eager for the hockey season to resume. Thankfully, 2019-20 Upper Deck Credentials is here to help tide us over until the players hit the ice. Loaded with rookie cards, parallels, and autographs to find, this new set gives collectors plenty to look for as they wait for the puck to drop. And with these phenomenal new card designs, we're sure Credentials is a set that'll earn itself a valued place in your collection. 
Which new design from Credentials do you like the most? Let us know in the comments!