Take The Next Step In Pokémon's Paldea Evolved
Get ready, Pokémon fans, because a thrilling new expansion is about to take the game by storm. Paldea Evolved is the highly-anticipated second release in the Scarlet & Violet era and it's ready to hit stores on June 9th, 2023!
Featured Pokémon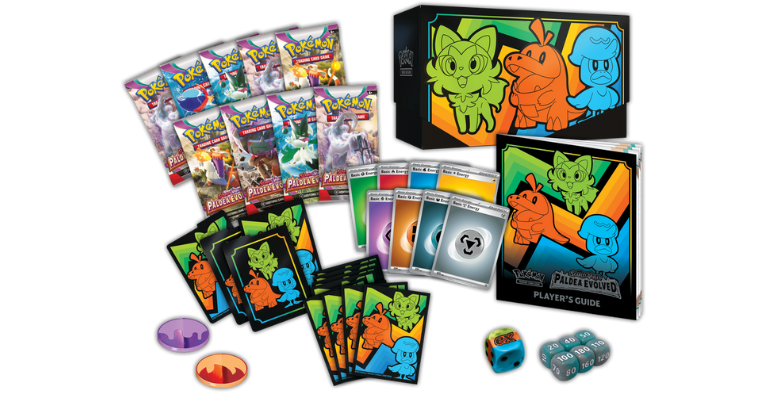 This new set introduces an array of cards that are sure to excite Pokémon trainers. One of the highlights is the debut of Pokémon ex cards for the final evolutions of the three starter Pokémon from the Scarlet & Violet video games: Meowscarada ex, Skeledirge ex, and Quaquaval ex. These new cards amp up the power for players loyal to their starter Pokémon. 
But that's not all! Prepare to meet the Treasures of Ruin. Making their card debut, the four legendary Pokémon from Scarlet & Violet—Wo-Chien ex, Chien-Pao ex, Ting-Lu ex, and Chi-Yu ex—will entice collectors and players alike. 
Set Breakdown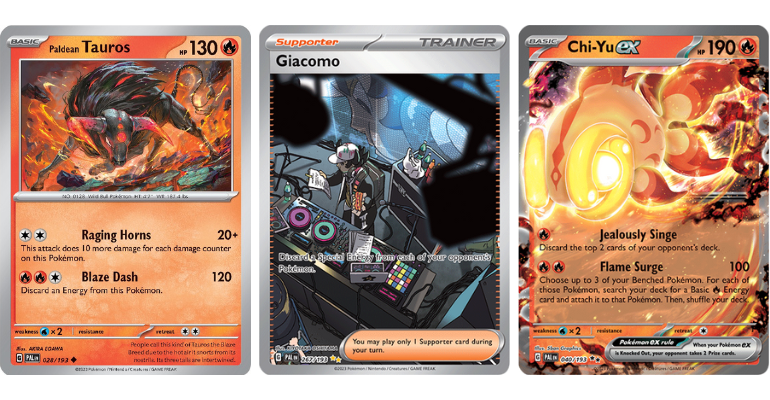 Paldea Evolved boasts a 193-card set list, as well as rare chase cards that will keep collectors in the hunt. Among the treasures awaiting trainers are 15 Pokémon ex cards, expanding the roster of Pokémon ex that began in Scarlet & Violet. For those seeking even more formidable additions to their decks, the set also features three new Tera Pokémon ex cards, featuring the new Tera mechanic introduced in Scarlet & Violet. 
And it doesn't stop there. The excitement continues with 36 Illustration Rare Pokémon cards, featuring stunning artwork. Additionally, 15 Special Illustration Rare Pokémon and Supporter cards bring that same artistic touch to powerful Pokémon ex and popular Supporter characters. 8 Ultra Rare Supporter cards offer additional flash and utility to your decks. As you can see, there's plenty of great stuff to look for in this set!
Gold Etched Cards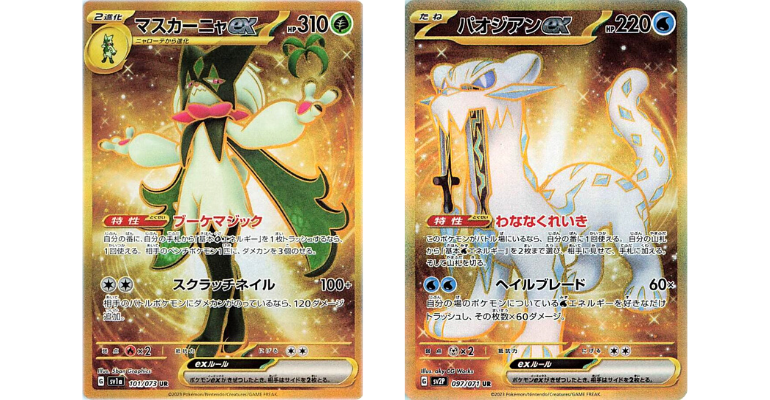 Images via justinbasil.com.
In a move that's sure to delight collectors, Paldea Evolved includes nine new Hyper Rare Gold Etched cards, three more than its Scarlet & Violet predecessor. Among these rare treasures are five Pokémon Rare Gold Etched cards, featuring Meowscarada ex, Skeledirge ex, Quaquaval ex, Chien-Po ex, and Ting-Lu ex. These exquisite cards showcase the final evolutions of the Scarlet & Violet starter Pokémon as well as two of the Treasures of Ruin.
There are also two Supporter Rare Gold Etched cards: Super Rod and Superior Energy Retrieval. In addition, Paldea Evolved introduces two more Energy Rare Gold Etched cards to go with the two included in Scarlet & Violet. This time, you can get your hands on Grass and Water. With their elegant design and high rarity, these cards are sure to please collectors, making "Paldea Evolved" a truly exceptional addition to the game.
Sequence Cards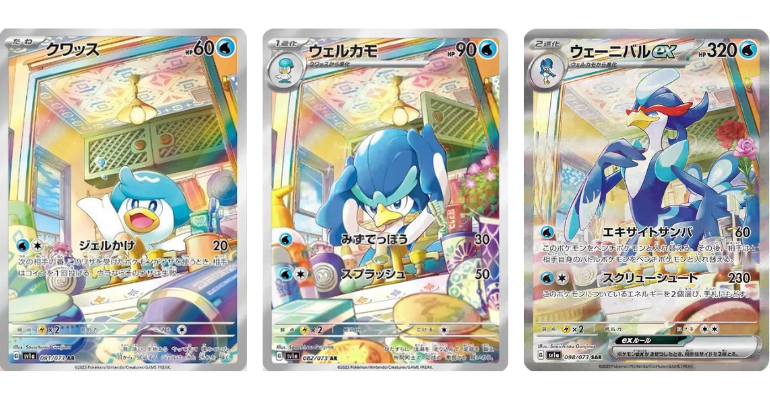 Images via justinbasil.com.
Paldea Evolved brings a beloved feature back to the Pokémon TCG with the return of sequence cards. These remarkable Full Art Pokémon cards offer a fun storytelling experience as they depict the journey of a Pokémon through its evolutions when placed side by side. Paldea Evolved includes sequence cards for all three of the starter Pokémon and their evolutions, bringing the experience of training these Pokémon to life.
In Conclusion
Paldea Evolved is a welcome new addition to what the Scarlet & Violet set introduced, offering plenty of cards to help you expand your roster of Pokémon ex and Tera Pokémon. Whether you're looking to chase the Gold Etched cards, hunt for every sequence card, or collect every new Paldea Pokémon making their TCG debut, Paldea Evolved is sure to be a big hit for both collectors and players! Pre-orders for Paldea Evolved products are now available at Zephyr Epic, so act quick to secure yours! 
Which Pokémon in Paldea Evolved are you most excited to add to your collection? Let us know in the comments and, as always, thanks for reading!