A New Era Begins In Pokémon Scarlet & Violet
Attention all Pokémon card collectors! Mark your calendars for March 31, 2023, as the Pokémon TCG prepares to explore the world of the Pokémon Scarlet and Violet video games for the first time. Pokémon Scarlet & Violet is the first expansion set to kickoff the Scarlet & Violet Series, and it's sure to be a hit among fans. With never-before-seen Pokémon from the Paldea region to add to your collection, this is an expansion you won't want to miss out on.
Scarlet & Violet boasts 198 new cards on the official set list, with over 250 new cards expected in total when Secret Rares are factored in. This includes 33 new Trainer cards, and Pokémon fans will be thrilled to see that Koraidon and Miraidon are two of the Pokémon thrust into the spotlight.
Mechanics, Old And New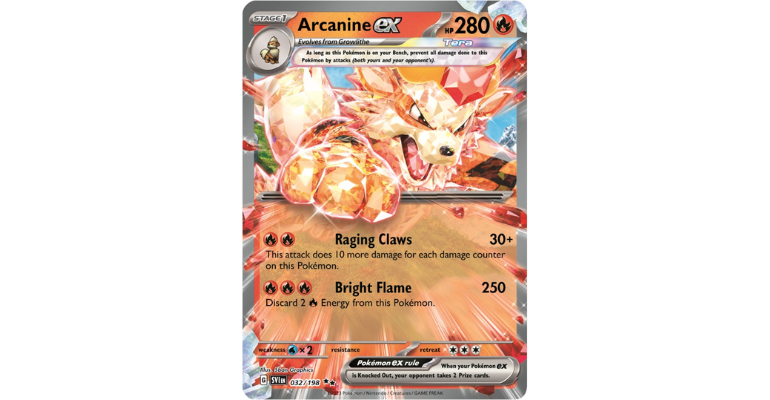 Visiting a new world of Pokémon means trying some new things out, and a new wrinkle to the game is coming your way. Introducing the Terastal mechanic, inspired by a mechanic of the same name from the Scarlet & Violet video games, which featured Pokémon temporarily taking on a gem-like appearance. In the card game, a Terastal Pokémon cannot be harmed while on the bench. This new mechanic should add a new level of strategy, as players can keep their Terastal Pokémon safe on the bench until they're ready to unleash their full power.
But Terastal Pokémon isn't the only mechanic featured in Scarlet & Violet. Old is new again with the return of the Pokémon-ex mechanic! First introduced in EX Ruby & Sapphire, the ex mechanic allows players to add more powerful versions of their favourite Pokémon-ex to their line-ups. While it eventually fell out of favour as newer and more powerful mechanics like GX, V, and VMAX were introduced, the ex mechanic is making a comeback. Not only is a Pokémon-ex a more powerful version of a Pokémon, but it can also be used to evolve from that Pokémon's pre-Evolution. So a Magnezone-ex can evolve from a regular Magneton, giving you more options to explore as you build your decks. The list of Pokémon ex cards included in Scarlet & Violet is as follows:
Spidops-ex

Arcanine ex

Gyarados ex

Magnezone ex

Miraidon ex

Gardevoir ex

Banette ex

Great Tusk ex

Koraidon ex

Toxicroak ex

Iron Treads ex

Oinkologne ex
Design Changes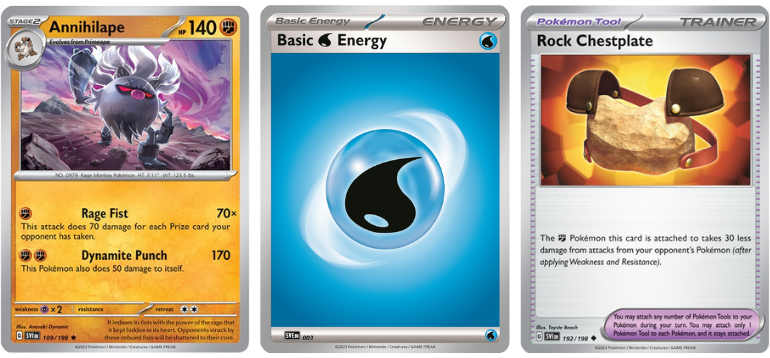 In addition to the new mechanics, Scarlet & Violet will introduce some changes to the design of the cards themselves. One of the most notable changes is the switch from yellow to silver borders, matching the longtime look of the Japanese version of the game. Expansion symbols will also be replaced with codes, and all cards with a Rare rarity will now be holofoil, adding an extra element of excitement to every pack. Speaking of packs, booster packs will now come with three foil cards instead of two, giving players even more of a chance to pull rare and powerful cards. The layout of Trainer and Energy cards has also been tweaked to make some information more accessible, while Tool cards have been given their own category alongside Item, Supporter, and Stadium cards. These changes mark the beginning of a new chapter in the evolution of the Pokémon trading card game.
Product Line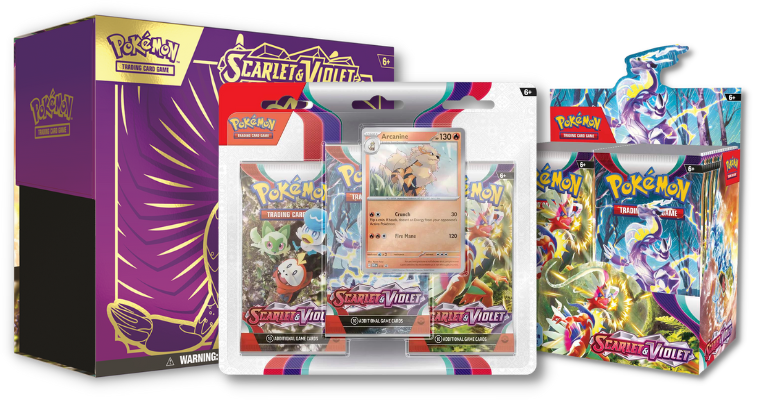 The Scarlet & Violet product line that offers something for every fan and collector. The upcoming set will be available in a range of products, including blister packs featuring promo cards for Arcanine and Dondozo, perfect for those looking to add an exclusive new card to their collection. For those looking to collect as many cards as possible, the booster box will be a popular choice, while the bundle is a great way to save some money on packs. The Elite Trainer Box is available in both Koraidon and Miraidon editions, each featuring an exclusive promo card and other exciting extras. And coming soon after, the Build and Battle kit is a good fit for players looking to dive right into the action, with everything needed to start playing right away, and the Stadium box lets two players get in on the action.  With such a diverse range of products available, Scarlet and Violet is ready to be one of the biggest releases of the year!
In Conclusion
Pokémon Scarlet & Violet is an exciting introduction to a new world of Pokémon, and this set introduces the foundations for more twists and turns in future expansions. Will the Terastal mechanic help players keep their powerful Pokémon safe until they're ready to be unleashed? Will the return of Pokémon-ex make enough of an impact to get them back in your decks? The only way to find out is to dive in yourself, to get your preorders in today!
What are you most excited about in Scarlet & Violet? Let us know in the comments and, as always, thanks for reading!