Travel Space And Time in Magic: The Gathering's Doctor Who
Get ready to embark on a thrilling journey through time and space as the upcoming Magic: The Gathering set, Doctor Who, transports players into the iconic radio and TV series' universe. As the next part of the Universes Beyond series, which brings beloved characters and lore from various movies, TV shows, and games to Magic: The Gathering, Doctor Who promises to be a worthy addition to Magic's ever-growing multiverse with four new Commander decks and 100 new cards. Reprints in this set also arrive with new art inspired by the rich lore of Doctor Who. It's a fusion of cherished stories with a beloved game, promising a unique Magic: The Gathering experience.
Set Breakdown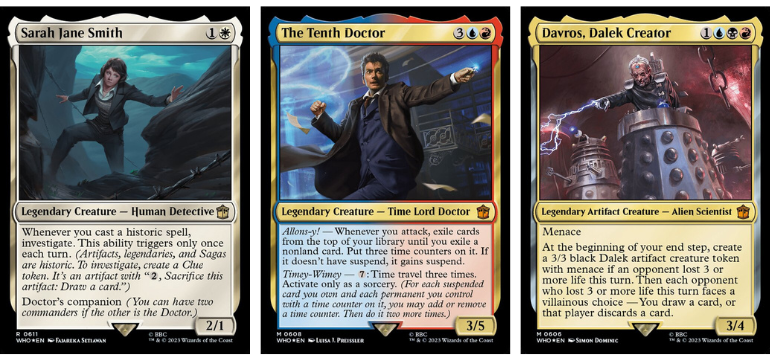 Images via Scryfall.
The Doctor Who set introduces four new preconstructed Commander Decks, each offering a different gameplay experience. In the Blast from the Past deck, fans can take command of the Fourth Doctor and Sarah Jane Smith with their respective Commander cards, embarking on adventures reminiscent of the classic series. For those who love the Tenth Doctor and Rose Tyler, the Timey-Wimey deck provides an opportunity to relive their iconic moments. Paradox Power lets players harness the enigmatic Thirteenth Doctor's abilities, along with those of her companion Yasmine Khan. But if playing on the side of Good isn't for you, the Masters of Evil deck allows you to unleash the powers of the Doctor's various antagonists, including Davros, creator of the iconic Delaks, whose Commander card is featured. Regardless of which iteration of the Doctor you prefer, there's something for everyone in these decks.
Mechanics & Abilities

Images via Scryfall.
Each Commander deck comes complete with 10 new Planechase cards to breathe new life into the Planechase format. Originally introduced in 2009 in the Planechase set, the format pairs nicely with Doctor Who's time-and-space-traveling theme. For those unfamiliar with the format, Planechase involves a second small deck of Plane cards that are turned face up on each turn, introducing game-altering effects for that round. These new Planechase cards naturally showcase famous locations from the Doctor Who franchise, providing players with a way to add an additional Doctor Who flavour to their games. 
Images via Scryfall.
Doctor Who also features a focus on Saga enchantment cards. First introduced in the Dominaria set, Saga cards are a story-based mechanic that prompt players to place Lore counters on them on subsequent turns. As lore counters are added, new effects are triggered, in this case allowing players to relive iconic moments from the Doctor Who universe. Whether you find yourself in the City of Death, experiencing The Eleventh Hour, or facing The Parting of the Ways, these Saga cards not only offer players a way to gain the upper hand, but also bring to life their favourite Doctor Who stories.
Images via Scryfall.
There are some additional new and revamped mechanics and abilities in Doctor Who. Doctor's Companion is a variant of the Partner ability, allowing players to have two Commanders as long as one of them is the Doctor. A new Time Travel mechanic enables players to manipulate time counters placed on cards. Paradox is a new ability word that starts with "Whenever you cast a spell from anywhere but your hand…" And finally Villainous Choice is a modal effect that forces opponents into choosing between two detrimental outcomes. With these new features, Doctor Who is not only a fun set for fans of the series, but also a welcome addition for any Magic fans looking for powerful new cards to add to their decks.
For Collectors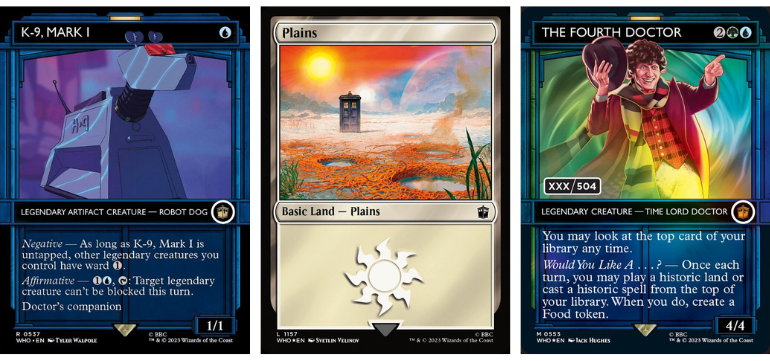 Images via Scryfall.
In a first for Commander Deck-based releases, Doctor Who also includes Collector Boosters into its product lineup. These will intrigue collectors with the chance to find alternate art versions of the new Doctor Who cards, including 30 cards adorned with TARDIS card frames and boasting a captivating comic book art style. The Commander Boosters also offer the opportunity to discover serialized Doctor cards, each numbered from 501 to 513 (corresponding to the specific Doctor's iteration). Plenty of treasure to find for both Magic collectors and Doctor Who fans alike!
In Conclusion
Doctor Who is one of the biggest sci-fi franchises of all time, and given the sheer madness of the Doctor's many adventures, it will certainly make for an unusual and exciting addition to Magic: The Gathering. Releasing on October 13th with plenty of powerful cards and refreshed mechanics, it's sure to be a big hit for fans, so stay tuned for updates from Zephyr Epic on product availability!
Which aspect of the Doctor Who set are you most excited about? Let us know in the comments and, as always, thanks for reading!