Make Way For New Faces In 23-24 Upper Deck Series 1 Hockey
The always-anticipated Upper Deck Series 1 Hockey trading card set is here with its 2023-24 edition. Full of NHL veterans and a fresh crop of rookies, 23-24 Series 1 is ready to ring in the start of the NHL season. And while there are plenty of beloved insert sets returning, there are also some new inserts to look out for, and even a couple surprises as well!
Base Set, Young Guns, and Connor Bedard
What makes this year's release of Series 1 particularly noteworthy is that Upper Deck has changed the format. With a total of 250 cards in the base set, Series 1 features 200 veteran cards (including two checklists), ensuring you get some of your favourite current players. Additionally, there are fifty new Young Guns rookie cards (including one checklist), which is the main selling point of this set.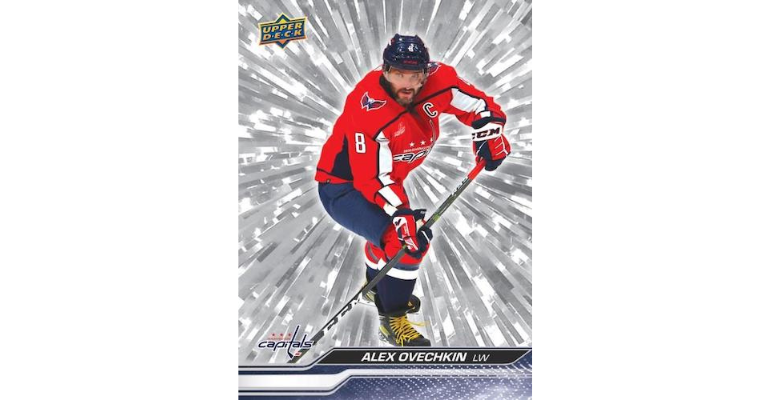 None of this is new, of course. That's how Series 1 has been arranged for years. But what is new is that Upper Deck is introducing several new parallel types for both base and Young Guns cards: Outburst Silver (1:15 packs), Deluxe (#/250), Outburst Red (#/25), Outburst Gold (one-of-one), and Printing Plates (one-of-one). But if you're a fan of the older parallel variants, don't worry. Exclusive (#/100), High Gloss (#/10), and the hobby exclusive Clear Cut (1:48) are included as well!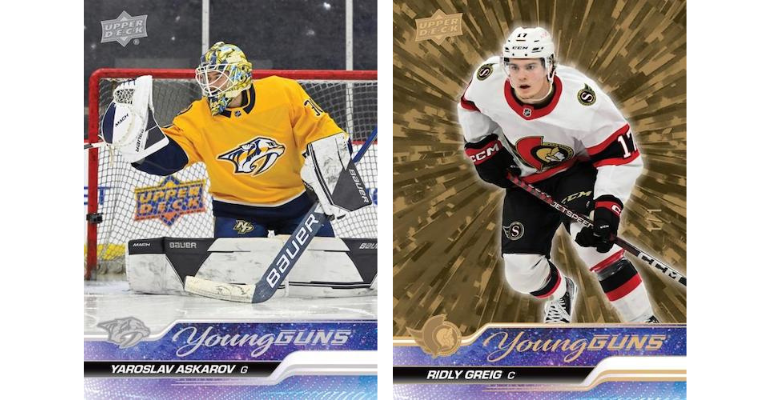 Young Guns rookie cards have also gone through an overhaul. Instead of finding one in an average of four packs, the odds have been adjusting to one Young Guns card per two packs. Young Guns cards can also be found in the same parallels as the base cards. Numbered cards will remain the same as base, while Outburst Silver (1:60) and Clear Cut (1:144) Young Guns will have rarer odds.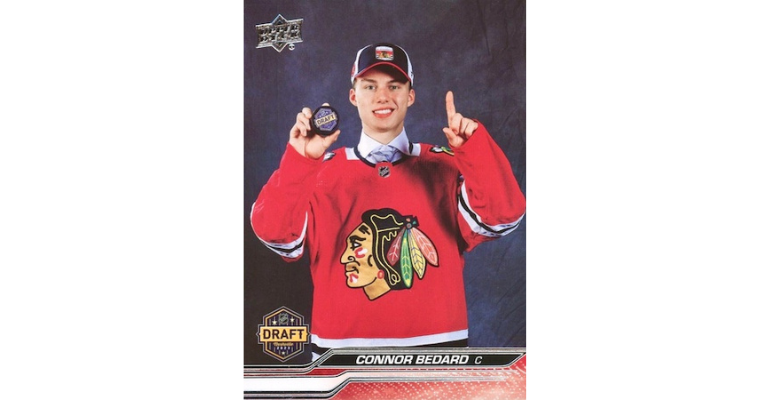 Image via Cardboard Connection.
As for Connor Bedard, while the young phenom's rookie cards are expected to be the biggest selling point for hockey cards this season, he is not included in the Series 1 Young Guns batch. It's expected that he will be a part of Series 2's list instead. But Upper Deck knows everyone is Bedard-crazy right now, so they've included a rare Bedard chase card featuring the kid on Draft Day, sporting his new Chicago Blackhawks jersey.
New Inserts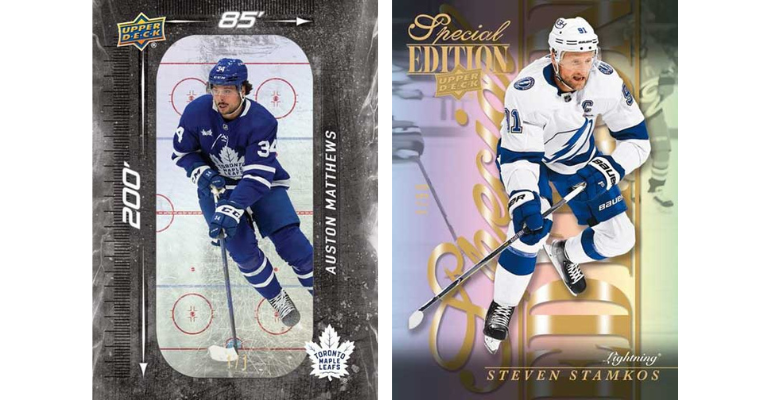 This year's Series 1 collection introduces an array of fun new inserts. The '200' x 85' cards showcase hockey superstars against the backdrop of an overhead hockey rink graphic. These cards can normally be found in an average of one in every six packs, but there are also parallel versions: Gold (1:36), Red (/99), and the ultra-rare Black (one-of-one).
Special Edition features 1:5 odds and the parallels include Red (1:180) and Gold (/50).
Star Zone (1:7) includes Red (1:240) and Gold (/50) parallels.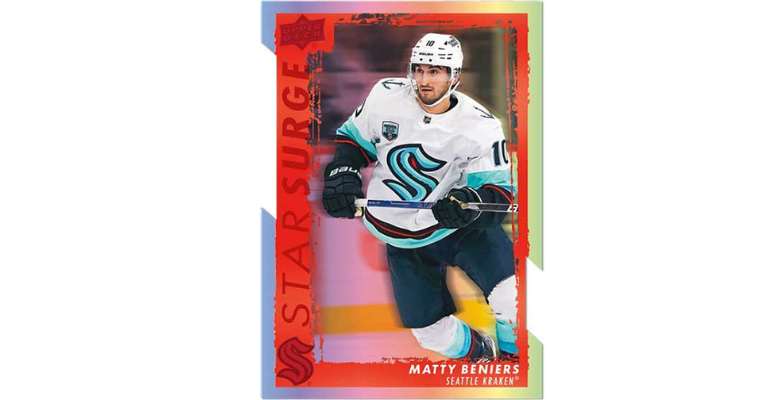 Star Surge focuses on the young talent of the NHL, with odds of 1:7. Its die-cut parallels come in Red (1:240) and Gold (/25).
For those who appreciate a playful twist, 'Teacher's Pet' inserts (1:5) feature top NHL players and their humorous "report cards." 
Stat Box Fillers have odds of 1:6.
Returning Inserts
As fun as the new insert sets are, it just wouldn't be Series 1 without a few old favourites returning with a refreshed lineup. UD Canvas cards have been one of the key insert sets in Series 1 for years. With a checklist of 120 cards (including Young Guns), this set shows no signs of slowing down. Regular UD Canvas cards come at 1:3, while Young Guns Canvas cards are harder to find at 1:24. There are also hobby-exclusive Black and White versions (Base 1:48; Young Guns 1:144) and one-of-one printing plates. In addition there are UD Canvas Signatures featuring autographs that are hard-signed, hand-numbered, and very hard to find!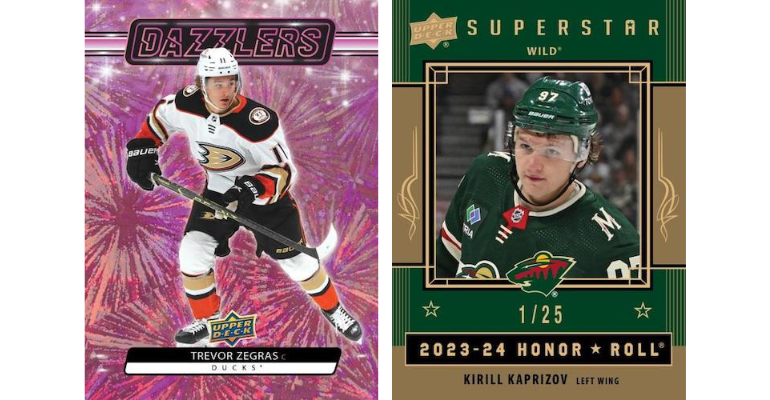 Dazzlers (1:12) are back with a variety of colourful parallels, some of which are exclusive to a specific product line (hobby boxes, retail boxes, blasters, etc.). Pink versions are 1:144. Series 1 focuses on veteran stars, with rookie Dazzlers reserved for Series 2.
Honor Roll (1:3) also features vets, saving the rookies for the Series 2 line-up. Parallels include Silver (/250), Gold (/25), and Printing Plates (one-of-one).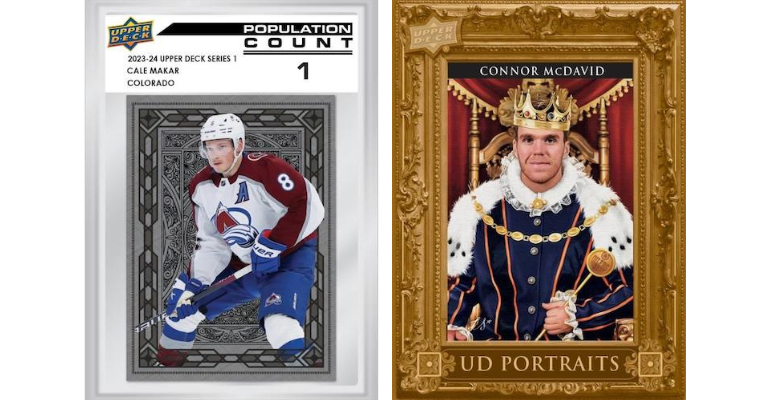 Population Count comes back for a second year, but now on acetate stock to better replicate their slabbed card look. Once again, the set comes in tiered print runs, numbering 1000, 500, 100, 50, 25, 10, and 1.
UD Portraits (1:7) is another longtime Series 1 insert set and every now and then, Upper Deck decides to have a little fun with the concept. This year, the NHL's biggest stars are framed (literally) as Renaissance-style portraits, with each player featuring an original design. There are parallel versions to find as well, including Silver (/99), Red (/25), and Printing Plates (one-of-one).
Debut Dates returns in Series 1, as does Rookie Retrospective (1:8).
23-24 Series 1 Hobby Box Breakdown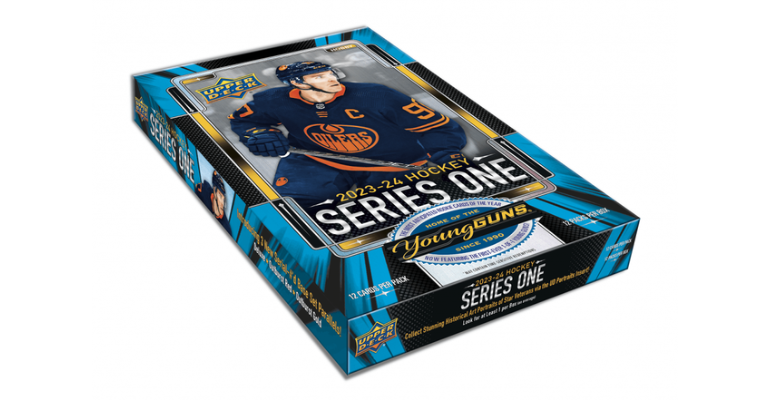 Upper Deck has given Series 1 hobby boxes a new configuration this year and "12" is the magic number. There are 12 cards per pack, 12 packs per box, and 12 boxes per case.
In an average hobby box, you should expect to find:
6 Young Guns

4 UD Canvas

1 Base Outburst Silver

1 Additional Parallel (Base Clear Cut, UD Canvas Black & White, or 200' x 85' Gold)

2 200' x 85'

1 Dazzlers Blue

8 Debut Dates, Rookie Retrospectives, Stat Box Fillers, and/or Teacher's Pet

6 Honor Rolls and/or UD Portraits

6 Special Editions, Stat Surges, and/or Star Zones

1 Wildcard (rare ratio and/or #'d card)
In Conclusion
Upper Deck Series 1 is always an exciting release and the 23-24 edition is no exception. With names like Luke Hughes, Dustin Wolf, and Matthew Knies in this batch of Young Guns, plus all of the exciting new insert sets, there's plenty of value for collectors to hunt for. Although some fans may be disappointed that Connor Bedard's Young Guns card is likely being saved for Series 2, his Draft Day card in Series 1 is going to be on everyone's radar. Be sure to nab your hobby box before it's too late!
Whose Young Guns card are you hunting for? Let us know in the comments and, as always, thanks for reading!