Looking Forward to the Fully-Loaded 2019-20 SP Authentic
SP Authentic is one of Upper Deck's most popular sets of hockey cards, and the 2019-20 edition is certain to continue the trend. Full of autographs, special inserts, and update cards, this set is loaded with value and sure to be a big addition to your collection!

Image via Beckett.
2019-20 SP Authentic has a 100-card base set made up of the NHL's top stars. You'll hit Red Parallels at about one every six packs. Select cards have Limited Autographs versions (1:90) and Limited Auto Materials have four tiers: Tier 1 (/100), Tier 2 (/50), Tier 3 (/25), and Tier 4 (/10). 
Future Watch

Image via Beckett.
Future Watch rookie cards are the most popular subset in SP Authentic, rivaling the popularity of Upper Deck Hockey's Young Guns rookies. Base cards are numbered out of 999, and Future Watch Autographs average to one per hobby box (note that only select Future Watch cards have Autographs versions). Future Watch Patch Autos are numbered out of 100.
There are also Retro Future Watch cards. The base set uses the classic 1999-00 designs (/249), while the Autographs (/399) and Auto Patch parallels (/50) use the 2009-10 design. There are also 2009-10 Retro Rookie Review Auto Patch (/25) cards to look for. 
Sign of the Times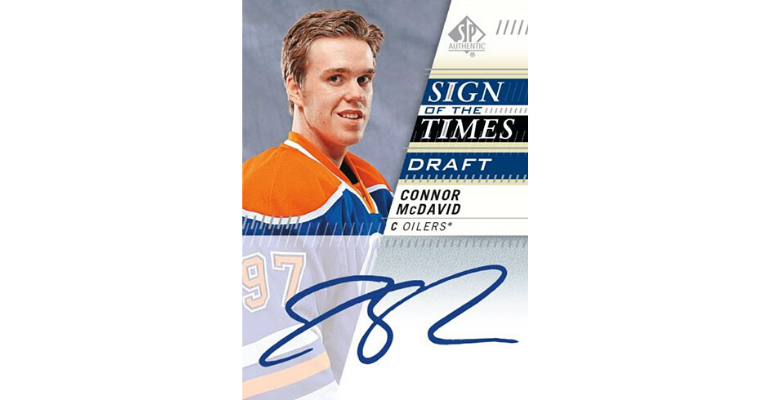 Image via Beckett.
Sign of the Times is another classic SP Authentic subset and one that is actually split into several different subsets. The first is Sign of the Times Draft which features photos taken of players on their draft day. It's a 25-card checklist and hits at one every 540 packs.

Image via Beckett.
Sign of the Times Decades highlights players from the 80s (1:864), 90s (1:864), and 2000s (1:648). Each decade has its own card design. 
Retro Sign of the Times features current players with throwback designs: 1999-00 (1:720) and 2009-10 (1:36).
Multi-Signature Sign of the Times cards have signatures from two (/25), three (/15), four (/10), six (/6), and even eight (/5) different players.
Rookie Sign of the Times are numbered out of 99.
Autographs

Image via Beckett.
There are several autograph insert subsets to be found in 2019-20 SP Authentic. Each Immortal Ink card is numbered out of ten and sports the signature of one of fifteen hockey Hall of Famers.
Marks of Distinction is another autograph subset and is numbered out of twenty-five.
Inserts

Image via Beckett.
Future Icons is a new addition to SP Authentic this year. All thirty-one NHL teams have a card and each card features two young superstars from a specific team. Each card is numbered out of 199.
Authentic Moments inserts highlight the big NHL moments from the past season. Autograph parallels can be found on average one in every 1200 packs.
The Authentic Winners insert set is found one out of thirty packs, while 1990-00 SP Essentials features a retro design and can be found one out of every eight packs.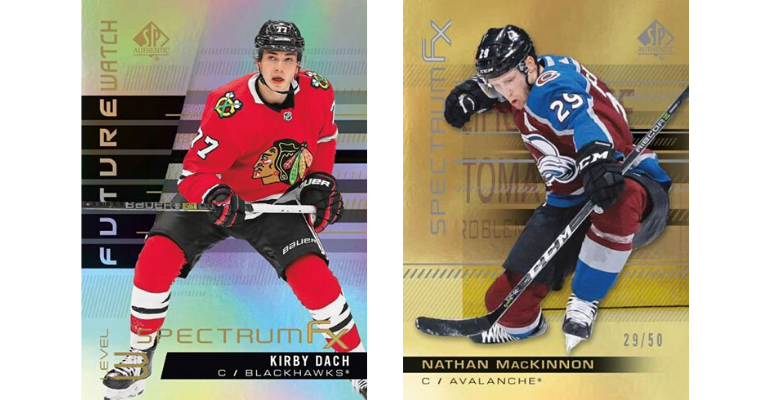 Images via Beckett.
Spectrum FX insert cards are used for Upper Deck's Bounty Program. It has a 99-card checklist, and card #100 is the bounty reward for collecting the first 99. In addition, the first fifty collectors to cash in on the bounty will also win a full set of Gold parallels of Spectrum FX. Spectrum FX cards feature both veteran players (1:18) and rookies (Tier 1 – 1:36; Tier 2 – 1:90; Tier 3 – 1:360).
Upper Deck Hockey Update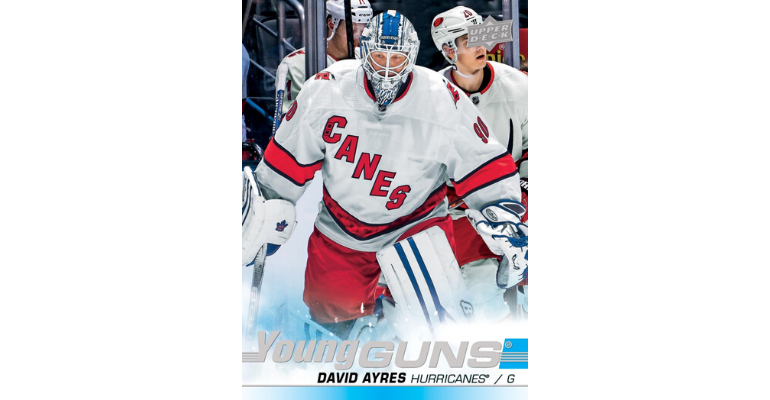 Image via Beckett.
2019-20 SP Authentic includes the final updates to Upper Deck Hockey. Base update cards can be found one per eight packs, while All-Star Highlights are one per thirteen and Young Guns are one per fifteen. Just as in Series 1 and Series 2, there are UD Exclusives (/100) and High Gloss (/10) parallels to find. 
In Conclusion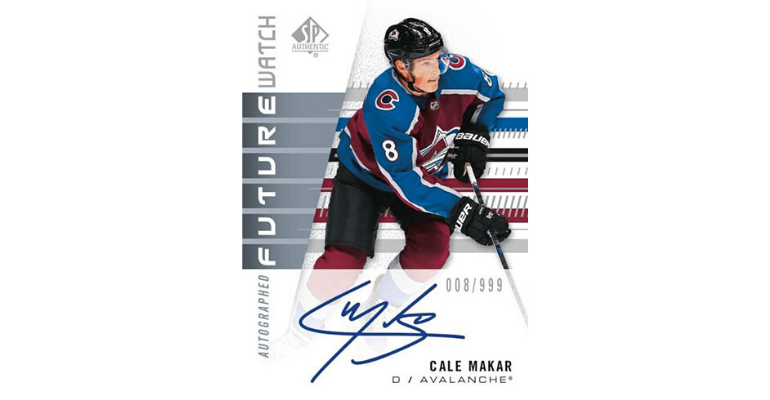 Image via Beckett.
2019-20 SP Authentic releases at the end of May. There are five cards per pack, eighteen packs per hobby box, and sixteen boxes in a case. A 2019-20 SP Authentic Hobby Box on average contains: one Future Watch Autograph; one additional autograph; five 2019-20 Upper Deck Updates; one Spectrum FX; six Authentic Moments, Authentic Winners, and/or SP Essentials; and three Red Parallels.
Whether you're trying to find Future Watch Autos, grab some old-school Sign of the Times, or finish your Upper Deck Hockey collection, 2019-20 SP Authentic is worth the wait. This is always one of our big sellers, so if you want a box of your own, be sure to make your pre-order today.
Angling for a Cale Makar Future Watch Auto or do you have your fingers crossed for the David Ayres Young Guns? Let us know which 2019-20 SP Authentic cards you're on the hunt for in the comments, and as always, thanks for reading!