2019-20 Upper Deck Engrained: Hockey Cards With A Hockey Stick Theme
Engrained is a themed hockey card set from Upper Deck that's inspired by the classic wooden hockey stick. The 2019-20 Upper Deck Engrained set, which releases on April 29th, is full of fun cards that'll bring you back to the old days of hockey before composite sticks took over the game!
Each box of Engrained contains a single pack of cards. That pack holds six cards, three of which are considered hits. On average, a pack contains two base cards or parallels, one Signature Shots card, two additional autograph or memorabilia cards, and one additional base or insert card.
Base Set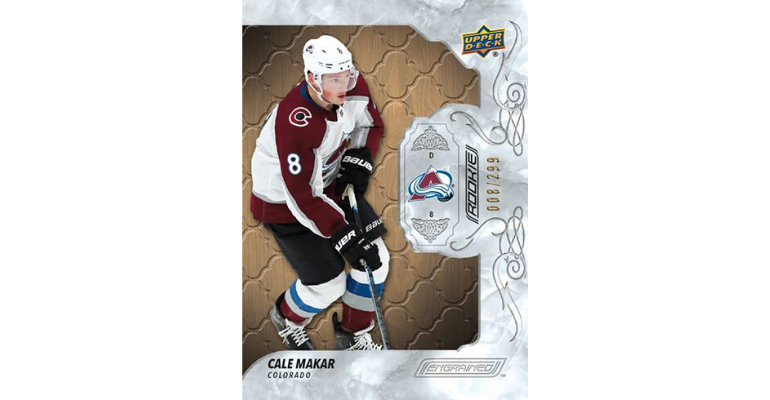 Image via Beckett.
The 2019-20 Upper Deck Engrained base set is split into three groups: Rookies, Stars, and Legends. Each player, regardless of group, is numbered out of 299. Every box of Engrained contains one Rookie base card and either one Star or one Legend card. In addition, there are three levels of parallels to collect: Mahogany (/99), Eboy (/49), and Rosewood (1/1). There are rare autographed base cards to find for every group: Rookies (1:3), Stars (1:8), and Legends (1:15). There are also memorabilia parallels available.
Signature Shots

Image via Beckett.
Every pack of Engrained comes with one Signature Shots insert card on average. The player autograph is on a piece of manufactured wood or carbon fibre within the card. Stars and Legends have Red Ink (/10) and Gold Ink (1/1) parallels, while base Rookies Signature Shots cards are numbered either out of 249 or 149 (depending on the player, with Red Ink (/99 or /35) and Gold Ink (1/1) parallels also to be found.
Inserts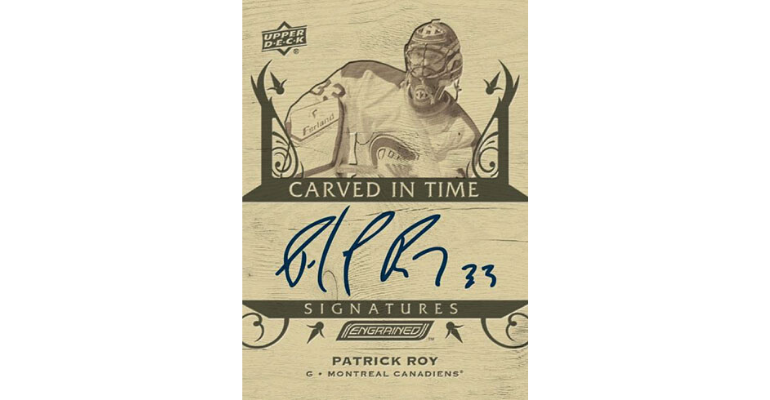 Image via Beckett.
Carved In Time is a fun insert set to look for. The cards are made of wood stock and feature a laser-etched image of the layer. The base set is 1:7 and the Autograph versions are 1:30.

Image via Beckett.
Each Complete Sticks insert card contains three pieces of a game-used hockey stick. The base cards are each out of 25, as are the autograph parallels.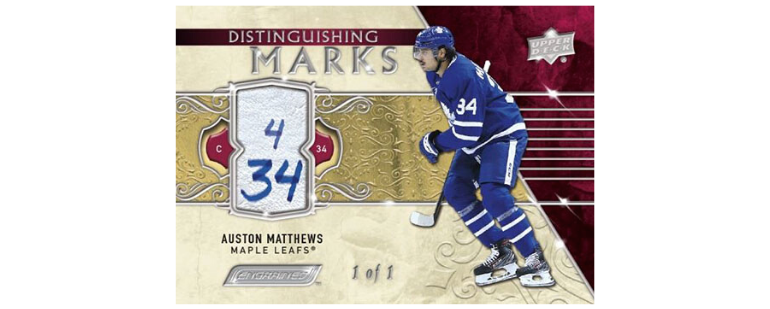 Image via Beckett.
Distinguishing Marks are insert cards contain pieces of a hockey stick that has been written on by a player and each card is a 1/1.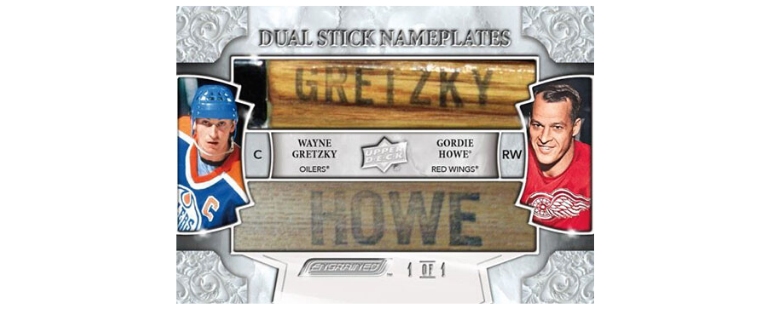 Image via Beckett.
Dual Stick Nameplates are also 1/1 and feature pieces from two players' hockey sticks where their names were printed. There are fifteen pairings to look out for!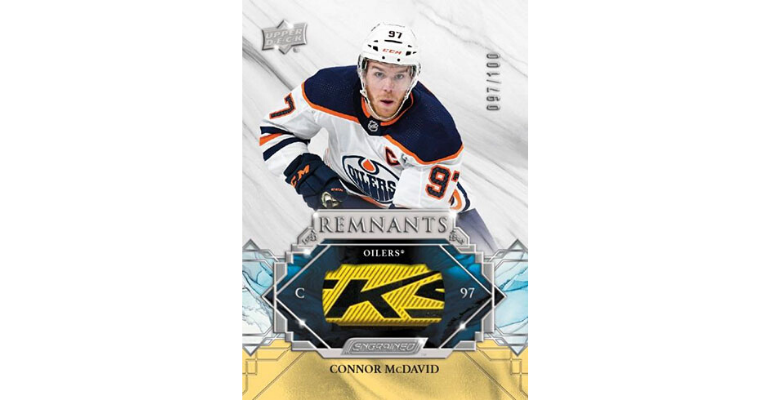 Image via Beckett.
Remnants insert cards have a 100-card subset, each with a piece of memorabilia inside the card. There are parallels available to be discovered, including some with autographs.
Image via Synthesis.
Synthesis insert cards are made to look like today's composite hockey sticks. The base cards are 1:2, while the parallels come in three levels: Blue (/99), Autograph (1:5), and Gold Autograph.
Honorary Engravings (/100) contain manufactured trophy nameplates and Signature Flexures (1:12) are another autograph subset.
In Conclusion
2019-20 Upper Deck Engrained is a fun set to collect that celebrates the past and provides collectors with valuable pieces of history. Whether it's a piece of one of Wayne Gretzky's hockey sticks or Connor McDavid's signature, there are lots of valuable autograph and signature cards in this set that offer a distinct look you can't find anywhere else.
Which player's hockey stick would you most want a piece from? Let us know in the comments and as always, thanks for reading!