NHL Play-In Preview: A Hockey Fan's Dream Come True
Hockey is back! It's been a long, confusing, frustrating, and occasionally anxious few months, but the COVID-induced pause in the NHL season is over and the playoffs are finally set to begin.
But these aren't going to be your normal NHL playoffs. COVID threw a wrench in everything, so the NHL has needed to be creative with their response. The season ended with teams having played an uneven amount of games, so how do you decide which teams make the playoffs in a way that's fair? Well, the NHL decided you do that by expanding the playoff field! This year, twenty-four teams will be making the playoffs! Or, to be more specific, the teams ranked first and second in their division have already qualified for the playoffs, while the remaining sixteen teams will have a special "Play-In" round to determine who joins those top eight teams in the official playoffs.
So how does it work? Starting this Saturday, those sixteen teams will play a best-of-five series. Once those are done, the winners will be seeded against the top eight teams in the league. It's basically Playoffs Round 0. That means even more great matchups, storylines, and drama to kick off the resumption of NHL hockey.
Pittsburgh Penguins vs. Montreal Canadiens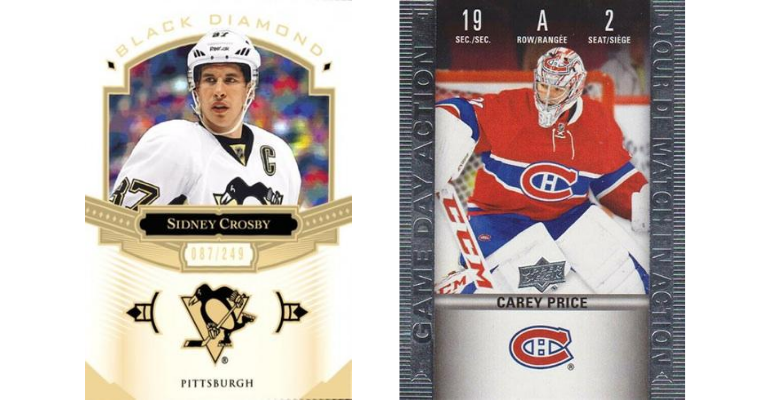 Images via Beckett.
We'll start with the most lopsided matchup. The Habs just barely made the cutoff for this Play-In round and their reward is a match-up with the dominant Penguins. The Pens are as dangerous as ever with superstars Sidney Crosby and Evgeni Malkin, but they still have to go up against Carey Price. The Canadiens goaltender may not have had his best season, but he remains so scary that the Penguins reportedly complained to the league about having to face him! In the NHL playoffs, nothing is guaranteed and anything can happen, so we'll have to see if Montreal's beloved goaltender can get into Pittsburgh's head and steal this series.
Player To Watch For: Nick Suzuki. Montreal's rookie raised eyebrows this year with his stellar offensive play. If the Habs have a prayer in this series, they're going to need as much firepower as they can muster, and that means Suzuki will need to step up for his first taste of NHL playoff-style hockey.
Carolina Hurricanes vs. New York Rangers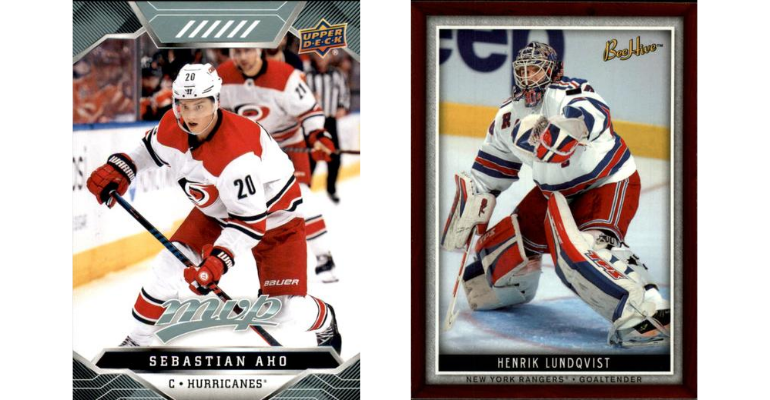 Images via Beckett.
The Hurricanes have one of the best defenses in the league. That was on clear display when they rallied behind emergency back-up goaltender David Ayres and shocked the Maple Leafs in a win earlier this season. But now they have to go up against one of the best offensive players of the year: New York's Artemi Panarin, who ranked fourth overall in total points. The question in New York is with "King" Henrik Lundqvist, their longtime starting goalie. Does the team stick with the guy who's been so reliable for so long, or go with Igor Shesterkin, the backup that's outplayed him this year? The wrong choice could be a dream come true for Carolina and end New York's playoff hopes early.
Player To Watch For: Kaapo Kakko. The hopes were high for New York's 2nd overall draft choice, but he ended up having a relatively quiet season. Can the rookie live up to the hype and lead this underdog Rangers team into the playoffs?
New York Islanders vs. Florida Panthers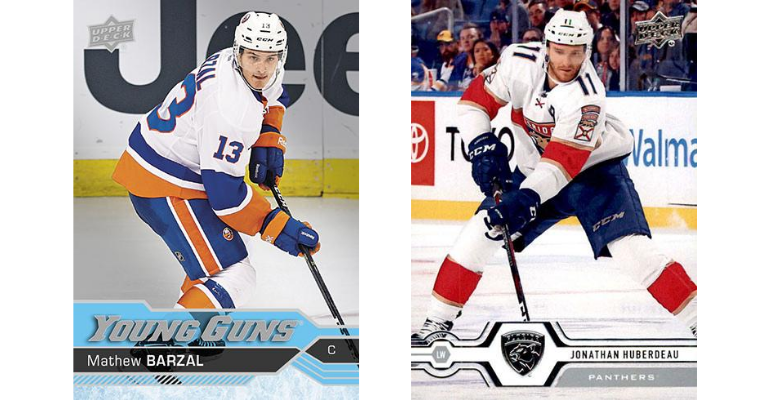 Images via Beckett.
In order to bolster their promising young team, the Panthers signed free agent goaltender Sergei Bobrobski. Unfortunately, Bobrovski hasn't really shown the flash he's known for, and Florida will need him to regain his old form fast if they have any hope of going deep in the playoffs. The Islanders, on the other hand, have mostly stuck with what worked well last year, which is surrounding young superstar Mathew Barzel with a lot of depth and a solid defensive system. The Panthers have more flair, but the Islanders play a more polished game, so the question is, what ultimately wins out?
Player To Watch For: Jonathan Huberdeau. Anyone who watches the Panthers will think watching for Huberdeau is obvious, but that's just it. Because he plays for the Panthers, Huberdeau flies under the radar for most hockey fans. But he's a sensational player and one of the top point-getters in the league this year. Look to see him elevate his game even more with the Panthers poised to get into the playoffs for the first time since 2016.
Edmonton Oilers vs. Chicago Blackhawks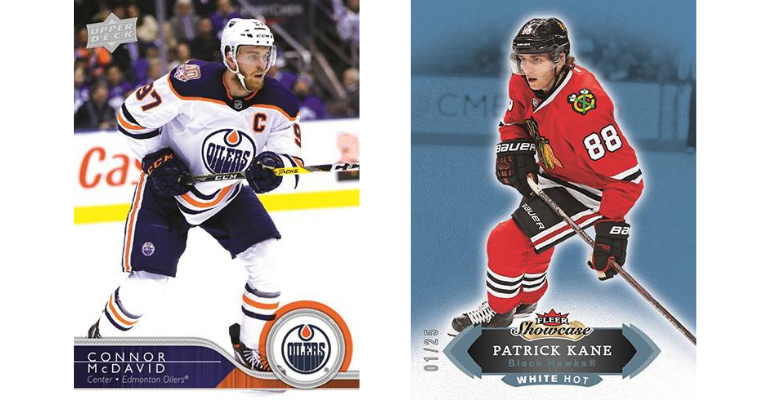 Images via Beckett.
This series features some big names, with a match-up between elite playmakers Connor McDavid and Leon Draisailt against three-time Stanley Cup champions Jonathan Toews and Patrick Kane. The Oilers have two of the best players in the league and a lights-out powerplay, but the question remains if they have the depth to go on a long playoff run. Chicago, on the other hand, has an diverse mix of seasoned vets and young talent, but perhaps even more issues with depth than Edmonton does. Which team's supporting cast rises up to boost an offense that mostly runs through two players?
Player To Watch For: Darnell Nurse. While still a young player, he's become the leader of Edmonton's defense. The Oilers will be looking at him to shut down Patrick Kane for the majority of this series, which is no small feat. He's got a lot of talent, so is he up to the task?
Toronto Maple Leafs vs. Columbus Blue Jackets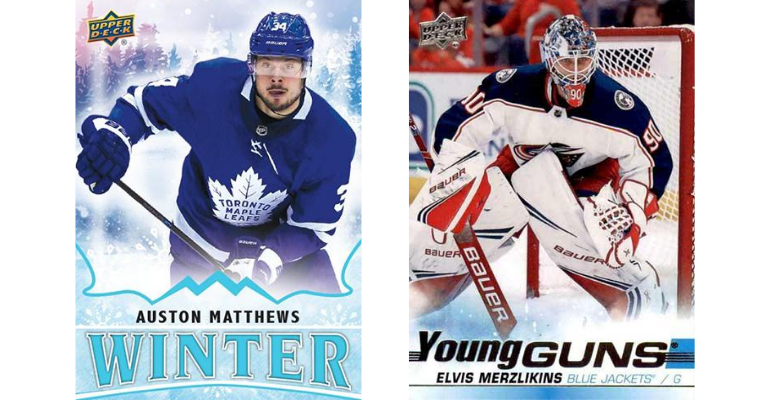 Images via Beckett.
An underachieving team facing off against an overachieving one, the Leafs and Jackets should provide a lot of entertainment. The Leafs have a ton of star power in Auston Matthews, John Tavares, and Mitch Marner, but for whatever reason, they just haven't been able to click this year like fans thought they would. On the other side is a Blue Jackets team who, despite being ravaged by injuries throughout the year, still managed to be in a playoff spot when the season ended. Goaltending should be great in this series, with the Leafs putting their star goalie Frederick Anderson between the pipes, while Columbus will be leaning on breakout rookie Elvis Merzlikins. The Jackets are now healthy for the first time in a long time, so it's possible they have it in them to slay one more giant, or perhaps crunch time will force the Leafs to finally get it going.
Player To Watch For: Tyson Barrie. Toronto's big acquisition before the season hasn't quite lit it up yet, but he was getting on a roll when the season ended. If he can get into a rhythm in this series, that's even more firepower for a hockey team that already has a lot of it, so look out!
Nashville Predators vs. Arizona Coyotes
Images via Beckett.
On paper, the Predators look to have the edge in this match-up. They have one of the best defensemen in the league in Roman Josi, as well as some talented forwards in Filip Forsberg and Matt Duchene to back him up. But the Coyotes should be able to hang in there with their stellar goalie platoon of Darcy Kuemper and Antti Raanta, who have both put up impressive save numbers this season. If one of those goaltenders gets into the zone and starts shutting everything down, the Preds are going to need Pekka Rinne to turn back the clock to 2017 when he led them to the Stanley Cup Finals.
Player To Watch For: Taylor Hall. Arizona's big mid-season acquisition has yet to catch fire with this team, but Hall's going to be a free agent after this year, so this is his audition to ensure his next contract is a big one. He was a beast for the New Jersey Devils when they made the playoffs in 2018, nabbing six points in five games, and the Coyotes will need him to channel that again and lead this team.
Vancouver Canucks vs. Minnesota Wild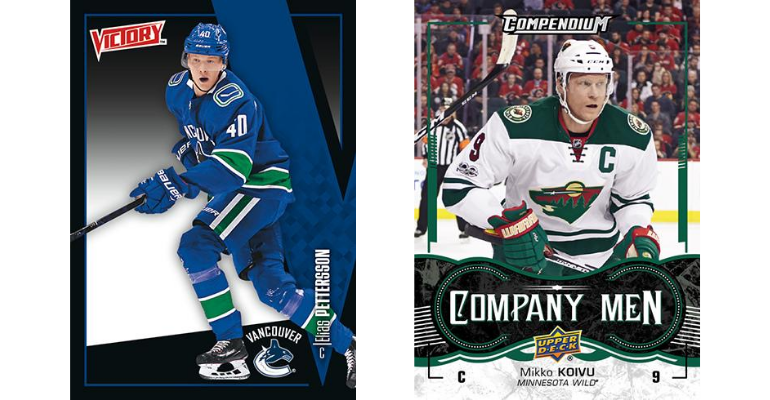 Images via Beckett.
We're admittedly a little biased when it comes to our hometown Canucks, but this series will likely be a close one. Vancouver's squad has more upside, as they've got dynamic young talent in Elias Pettersson, Brock Boeser, and Quinn Hughes. But the Wild bring experience to the table, as well as their trademark highly-disciplined defense. If Minnesota can shut down and frustrate Vancouver's young talent, they should have opportunities to counter-attack and expose the Canucks' weaknesses on defense. The Canucks have the edge when it comes to goaltending, thanks to a returning Jacob Markstrom, and with games where one goal could mean everything, a hot goalie could be the difference that decides this series.
Player To Watch For: Quinn Hughes. Vancouver's Calder Trophy-favourite, Hughes dominates the game when he's on the ice. The COVID break might actually be a boon for him and other rookies, as the grueling NHL season tends to wear them down by the time the playoffs start. But after a four-month break, Hughes is recharged, healthy, and in a position where he can take control of a game when he's on the ice.
Calgary Flames vs. Winnipeg Jets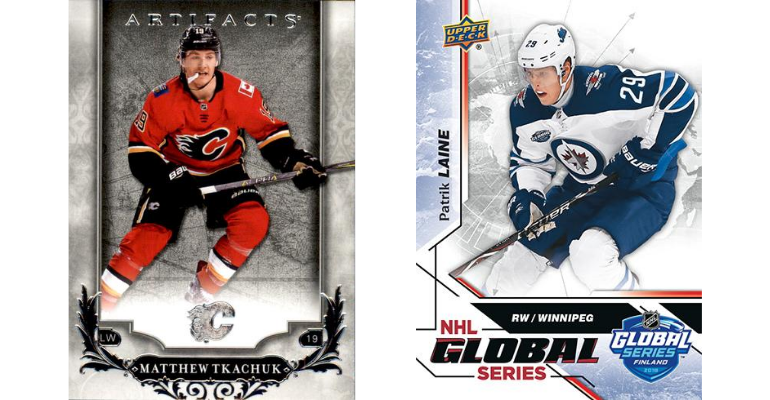 Images via Beckett.
Everyone loves an all-Canadian NHL match-up and this one should deliver plenty of action! The Flames come in with a mission to prove they're not the same team that got bounced in the first round last year, whereas the Jets will aim to show their contending window hasn't closed yet. Both teams have a lot of scoring ability in their forward groups, so it's defense (or lack thereof) which will probably decide this series. Calgary has a lot more talent on its blueline, but Winnipeg has Vezina-favourite Connor Hellebuyck between the pipes. Whoever blinks first in what will likely be an onslaught of shots will be going home early.
Player To Look For: Matthew Tkachuk. Calgary's best player was built for the playoffs. He's quick, can score goals, and makes his opponents see red with his rule "bending." With no Byfuglien to shove trouble-makers around, the Jets will be hard-pressed to contain Tkachuk's skill and grit once the refs put away their whistles.
In Conclusion
The Play-In round is a fan's dream come true. It's wall-to-wall games of do-or-die hockey with a ton of fun match-ups to keep us entertained all day. It's going to be unique, exciting, and something you will tell the next generation about for decades. Whomever you're rooting for, be sure to make time to catch as many games as you can, because there's going to be a ton of action you won't want to miss!
And if you want to enhance your hockey-watching experience, why not do so with a few packs of hockey cards to open during the games? Check out our wide selection of hockey cards and be sure to subscribe to our newsletter to get the latest on new releases like 2020-21 Upper Deck MVP and 2019-20 Upper Deck Chronology!
Which teams do you think will move past the Play-In round? Let us know in the comments and, as always, thanks for reading!