21-22 UD Series 2 Arrives Just In Time For The Stanley Cup Finals
It has been a long wait, but 2021-22 Upper Deck Hockey Series 2 is finally here! Upper Deck's flagship release is ready for its second act as hockey card collectors everywhere eagerly anticipate adding some big names (and the NHL's newest team) to their collection for the first time.
While it was fun to chase Young Guns rookie cards like Trevor Zegras, Cole Caufield, and Jamie Drysdale in 21-22 Series 1, Series 2 is going to be even more loaded with promising rookies to hunt for. But there's more to this set than just Young Guns, so let's take a look at all the exciting cards you can find in 21-22 UD Series 2!
Base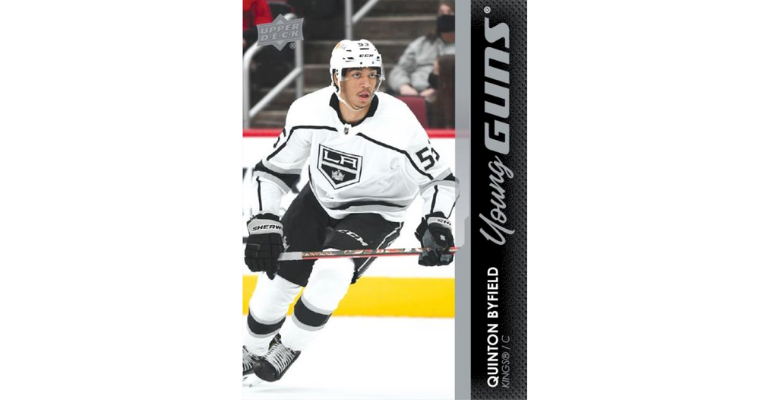 As usual, the base card checklist contains 250 cards with the typical breakdown: 198 veterans and 2 checklists, plus 49 Young Guns rookie cards and 1 Young Guns checklist. The ratio remains the same, with a Young Guns card landing one in every four packs, with an average of six per hobby or retail box. Collectors will be excited to discover that this set's Young Guns crop has a lot of potential, with Quinton Byfield, Lucas Raymond, and Moritz Seider as the biggest names to look for on release day. And don't forget, this set will include the very first Seattle Kraken base cards!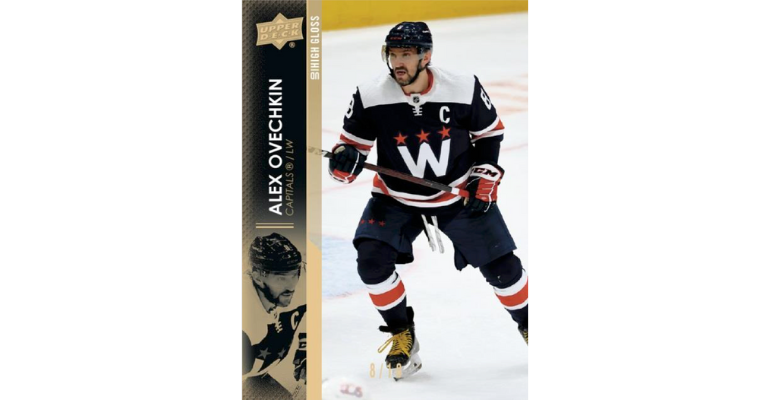 The base set also includes the parallels collectors are accustomed to finding in Series 2. The now-standard French parallels average one per hobby box, but can be found in retail products as well. Clear Cut acetate cards are exclusive to hobby boxes, with veterans landing 1:96 packs and rookies 1:288. Exclusives (/100) and High Gloss (/10) are also hobby-exclusive.
Inserts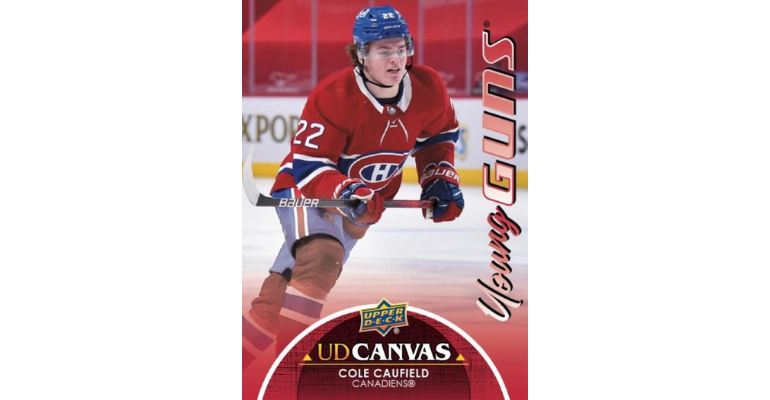 21-22 Series 2 will continue some insert sets from 21-22 Series 1. UD Canvas makes its expected appearance with a large 150 card checklist. There are 90 veterans to collect (1:8 hobby packs) and 30 Young Guns (1:48), plus 15 Retired players (1:192) and 15 Program of Excellence Team Canada players (1:192). Very rare Canvas Printing Plates are out there to be discovered as well.
Dazzlers also continue the set list started in 21-22 Series 1. There are 50 more to collect, with Blue as the most common edition (average of one per hobby box). Pink variations are 1:144 and retail tin-exclusive Orange variations are 1:8 (average of one per tin). In addition, there will be other colour variations to find in different retail products.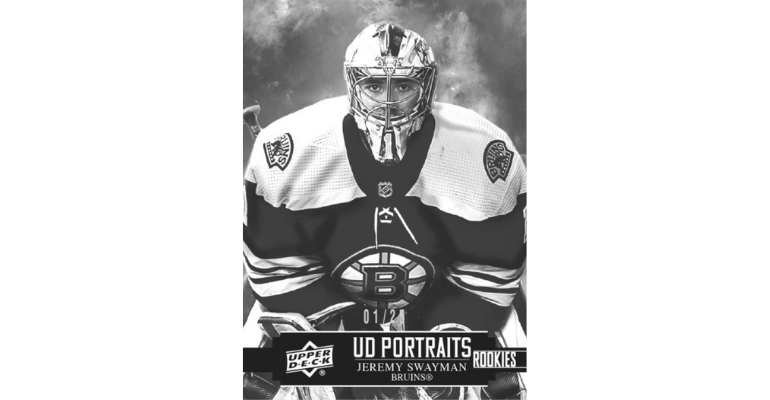 UD Portraits Rookies will focus exclusively on the NHL's newest stars and will be split into two tiers. The first thirty cards on the checklist will appear in one of every fourteen packs, but the ten short prints will be much harder, coming in 1 out of every 120. There are also Black & White parallels to hunt (/99; SP /25).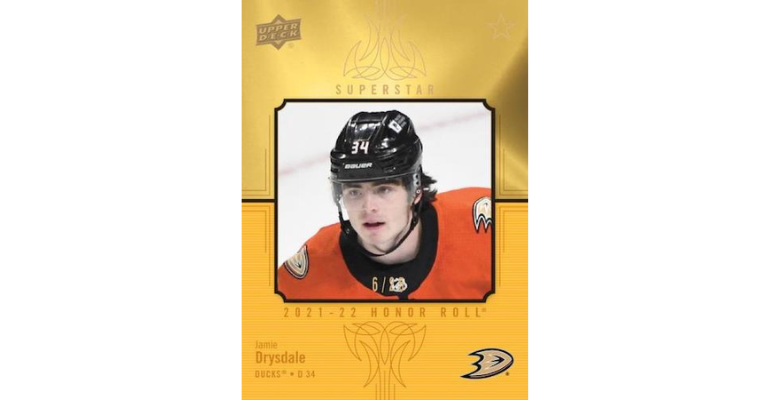 Image via Cardboard Connection.
Honor Roll returns with 50 new cards featuring a mix of veterans and rookies. Appearing in one of every twelve packs, it's not the toughest pull, but there are Rainbow (/250) and Gold Rainbow (/25) parallels to keep an eye open for.
Fluorescence is a Series 2 exclusive insert set and returns this year. They are rare pulls, with the most common Red version averaging one in every 144 packs. Other parallel versions include Gold (/150), Blue (/50), Green (/15), and Magenta (/5).
Day With The Cup, the notoriously difficult pull for UD Series 1 and 2 (1:1000), returns to celebrate the Tampa Bay Lightning's Stanley Cup win last season.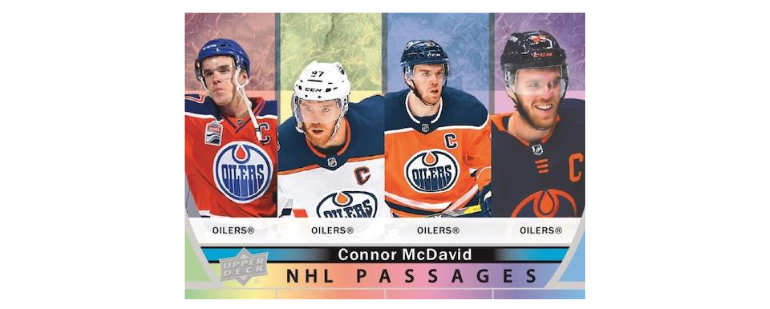 Image via Cardboard Connection.
There are some new insert sets to look for as well. NHL Passages is an acetate set featuring veterans who have been in the league for over five years. The cards feature multiple photos revealing the players through the years and land at 1:240. 
Rookie Breakouts (/100) is another new acetate set that features, you guessed it, this year's rookies.
Memorabilia

UD Series 2 isn't traditionally a relic-heavy set, but there are still some memorabilia cards to hunt for. Rookie Materials are 1:72, with Patch Parallels (/25) and Rookie Threads Retro Patches (/15) to find as well.
O-Pee-Chee Update
21-22 Series 2 doesn't just complete the set started by 21-22 Series 1. It also has update cards for the 21-22 O-Pee-Chee set. 
Marquee Rookies are the easiest to find with one in every eight Series 2 packs. You can also find update cards for players who are now on different teams, although those are a bit harder to get (1:30). 
There are plenty of O-Pee-Chee parallels to find as well. There are Blue (rookies 1:30; veterans 1:120) and hobby-exclusive Red borders (rookies 1:150; veterans 1:600) for the standard O-Pee-Chee cards. There are also the Retro variations (rookies 1:15; veterans 1:60) that come with their own parallels to look for. Black borders are numbered out of a hundred and Neon Green borders are out of 50.
The 21-22 Series 2 retail tins will come with a bonus pack of exclusive O-Pee-Chee Glossy Rookies cards. There are three cards in each pack, with a chance at either a Bronze (1:9) or Gold (1:27) variation.
In Conclusion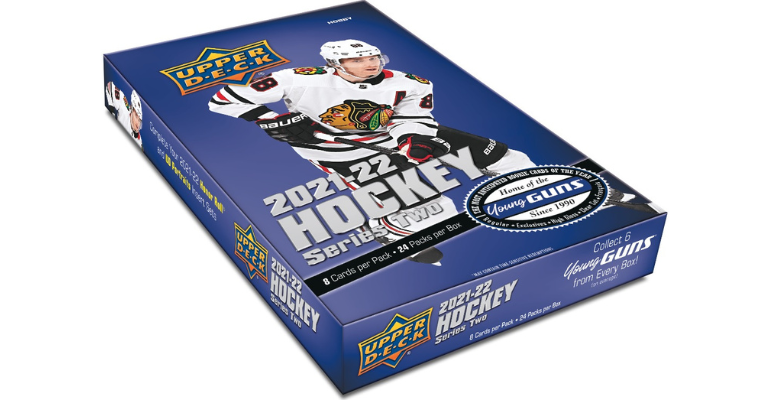 On average, a single 21-22 Upper Deck Hockey Series 2 hobby box should contain:
Young Guns Rookie Cards x6

French Parallels x1

UD Canvas x4

UD Rookie Portraits x2

Dazzlers Blue x1

Honor Roll x2

O-Pee-Chee Update x4

O-Pee-Chee Update Retro x2

O-Pee-Chee Update Parallels x2

Clear Cut, Fluorescence, Rookie Materials, or other premium card x1
As you can see, there's plenty to hunt for in 21-22 UD Series 2. Rare parallels, a variety of inserts, and plenty of promising Young Guns rookie cards to hunt for. And with the 2022 Stanley Cup Finals set to begin, it's the perfect time to get some packs to rip as you watch the best hockey of the year. You don't want to miss out, so order your Series 2 hobby boxes now!
Whose Young Guns card are you most eager to find in Series 2? Let us know in the comments and, as always, thanks for reading!